The COVID 19 pandemic has upended all aspects of our lives, and if you are a college student returning to school then textbooks are no exception. With many campus bookstores closed, your offline options are more limited than in the past but luckily your online options are better than ever so here goes: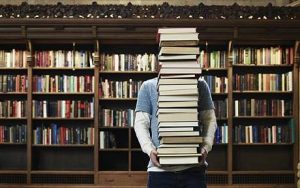 Get your book ISBNs from your professor or syllabus
This age old advice has never been more true or relevant than now. By getting your book info for your class ahead of time, you not only save money but also can avoid the headaches of last minute shopping and potentially having your book be sold out or overpriced. Every book has a unique 10 or 13 digit identifier called an ISBN (International Standard Book Number) that is unique to that book and that edition. So the 11th edition of a book will have a different ISBN than the 10th edition. It's important to get the ISBNs of your books so you get the exact book and edition that you will need for that class. With ISBN in hand you can easily comparison shop for your book and find the lowest price from the dozens of stores that CampusBooks.com searches in any condition including new, used, rental, eBook and even cheaper international editions. With the ISBN you are guaranteed that the book you buy online is the same you would buy in the bookstore; at the same time you are more prepared to identify a counterfeit textbook and return it if you realize it early enough.
Buy Early, Sell Late
We always recommend buying early and selling late to take advantage of the cyclical and predictable textbook market. This is even more important during the Pandemic since there is tight inventory at many warehouses due to surging online demand, and post office deliveries are being delayed for political reasons. It's simple Econ 101 Supply and Demand: prices are high when demand is high during peak back to school rush, and prices are lower during the off season months. At the same time, buyback prices are lower during the end of the semester when everyone is selling and supply is high. So the best way for you to minimize your out of pocket textbook costs is to buy early and sell late. The sooner you can get your ISBNs the earlier you can buy your books and get a lower price; if you can buy your books in July or earlier you are ahead of the game; the same goes for spring semester, if you can buy in December that's a great time to buy. Then if you can hang on to your books and sell them in August and January, you'll get more money when you sell. In some cases it's even possible to break even on your book, or even sell for a small profit!
Cheaper Options: Access Codes, Loose Leaf, and Libraries
Textbook access codes are one time codes used to access supplemental material, and are used by publishers to get you to buy new textbooks. Since they are only valid for one time use, typically you won't get the code with a used or rental book. Check with your professor to confirm if they will actually be using the supplemental material that the access code provides, if not then you can save money by getting the used book or renting.
Loose-leaf books are alternative versions of textbooks that usually come in a binder and are another good alternative to saving money. The CampusBooks search engine gives you the ability to sort your results by loose leaf so you can see if that format is available for you; again check with your professor on this as well.
Most libraries are still operating, although you might need to call them and schedule a pick up of your book. You also don't need to worry much about contracting COVID 19 from library books, or any used books in general. The virus quickly dies when exposed to the elements and libraries and bookstores don't turn over inventory that quickly so there is little chance of getting sick from a used book that hasn't been touched by someone else in weeks or months. Library books can't be highlighted or annotated, but they are free and if you need to highlight then you can make a copy of the page you need to highlight and use that. CampusBooks has partnered with local libraries to feature library results in our pricing comparisons; after you compare prices on your book use the filter on the left to punch in your zip code and see if your local libraries have inventory.
Buy Vs Rent
Renting may seem cheaper at first, but oftentimes buying used can actually be the cheaper option. Many books keep a high resale value, so the out of pocket cost can actually be cheaper for in demand books (if you take good care of your book). The CampusBooks Buy Vs Rent super bot helps you compare the total cost of ownership of your book so you can see what makes sense for you. After you compare prices on a book, check the Buy vs Rent tool on the left column to see our recommendation.
Conclusion
Ask your professor for your book ISBNs, see if access code material will be used, are there loose leaf formats available, buy early, sell late, and use CampusBooks's precision shopping engine to help find you the best options for both buying and selling textbooks.