For many students, living on campus will be their first time living away from family. This change means taking on new responsibilities, such as paying for housing costs. But what about keeping things eco-friendly? Whether you're new on campus or returning for another semester, you can easily make your dorm room more environmentally friendly. Get started with these four tips.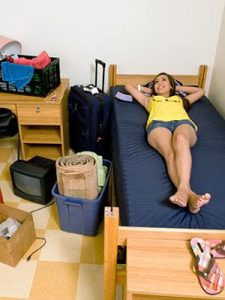 Shop Used Instead of New
Even though most dorms include basic furniture, you'll still need other items: clothes hangers, an alarm clock, extra lamps, bed linens, a laundry basket, decorations, and more. Hopefully, you can get some free stuff from Mom and Dad or Aunt Kathy. For almost everything else, you can buy used instead of new.
Start looking at garage sales, consignment shops, thrift stores, or even Craigslist for what you need. You can save a substantial amount of money compared to buying new items, and you'll also help the environment. Buying secondhand reduces carbon emissions from transporting goods, eliminates the use of raw materials like wood and plastic, and saves perfectly good items from the landfill.
Reduce Phantom Power
Did you know that electrical devices can still use power while plugged in, even when they're turned off? Your cellphone charger, TV, hair dryer, laptop, toaster oven — anything you leave plugged in all the time — continue to waste energy when you're not using them. This wasted energy is known as phantom power.
The least expensive way to reduce phantom power is to simply unplug the devices you're not using before you go to sleep or leave your dorm. For more convenience, however, you can invest in a power strip with switches. Some of them even come with a timer or an auto-shutoff feature. You may also want to disable your computer's screen saver: When it's left on, it can use up to twice as much energy.

Use Green Cleaning Products
Along with studying and meeting new people, you'll also (hopefully!) spend some time cleaning your dorm room. Make sure to pick up some eco-friendly cleaning products. Green Works, Mrs. Meyer's, Method, and Ecos are just a few brands that use biodegradable ingredients and eco-friendly packaging. As a bonus, you won't have to deal with the lovely smell of bleach each time you clean your room.
Choose Energy-Efficient Appliances
Are you planning to keep a minifridge in your room? If so, try to get a unit that is Energy Star-certified. Not sure if you need a microwave? You may find that hot plates do the trick.
Some dorms include a shared kitchen. In that situation, the stove is the biggest energy vampire. When possible, use smaller appliances for your cooking instead of the stove. Boil water in an electric kettle instead of in a regular kettle on a burner. Reheat pizza in a toaster oven. When you do use the stove, you can make the most of it by cooking several items at once.
Making a few small changes here and there can make your dorm room more eco-friendly. Try at least one of these tips, and see how simple it is to start living green.