For you, joining a fraternity or sorority is a no-brainer. You've always known you'd go Greek. Or maybe you don't think you're cut out for rush week or the pledging process. You'd never join in a million years. Get both sides of the story and learn about the pros and cons of joining Greek life.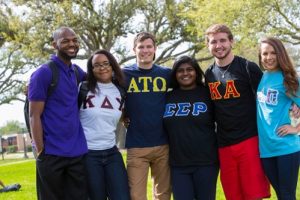 Pro: You'll Have a Built-in Group of Friends
If you can't wait to build a tightly knit group of friends, Greek life could offer just what you want. When you join a sorority or a fraternity, you'll make dozens of friends instantly. Since you'll be sisters or brothers, you'll form close bonds right away and support one another throughout college and beyond. In fact, many former Greeks maintain those close bonds for decades to come.
Con: Your Friend Group Might Be Too Limited
Having a built-in group of friends can be great. But when you devote so much time and energy to your fraternity brothers or sorority sisters, you might not have the capacity to make other friends. As a result, your crew could be limited to those around you and the other Greeks your house socializes with regularly. You could miss out on meeting people at college who exist outside of the Greek life bubble.
Pro: You'll Give Back to the Community
Greek houses are about much more than a group of friends and a place to live. Most Greek organizations are structured around the idea of philanthropy and giving back to the community. As a member, you can gain incredible volunteer experience and do charity work that helps you become a more well-rounded person.

Con: Too Much Social Time Could Compromise Your Grades
When you go Greek, you'll have to commit a fair amount of time to doing volunteer work, socializing with brothers or sisters, and participating in house activities. Virtually every Greek organization wants you to get great grades. However, yours could suffer if you aren't prepared to juggle the demands of Greek life with college classes and other commitments. If you're worried, talk with current members to find out how they make it work.

Pro: You'll Learn How to Lead and Collaborate
Learning strong leadership skills is important, even if you don't aspire to be a CEO of a major company. Honing these skills can be hard, though. When you join a fraternity or sorority, you'll learn how to lead and work as a team over the course of normal Greek life. Most houses have committees, hierarchies, and elections, so you'll have tons of chances to practice.

Con: It Might Break Your Budget
Even if you think Greek life would be a perfect fit, you might not be able to afford it. With membership fees, room and board costs, and activity fees, your monthly bill can add up quickly. Be sure you understand the true cost before you go through the rush process.
Are you ready to rush or would you rather stick to the dorms? Keep these pros and cons in mind as you decide whether Greek life is right for you.