Moving into your college apartment is an exciting milestone, a sign you're stretching your wings and exploring independence away from your family. If you're like most college students, you probably don't have the budget for fancy furniture or décor. However, there are a few items you shouldn't overlook when setting up your college pad.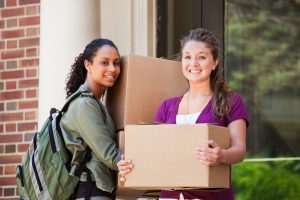 A Bookshelf
A bookshelf promises to be one of the most versatile pieces of furniture in your college apartment. It'll hold your textbooks and favorite novels, obviously, but it's also useful for stashing other items such as keys, phone, wallet, purse, ornaments, framed photographs, and random swag. Look for bookshelves with chests at the base for storing sheets, blankets, and towels.
A Work Desk and Chair
Yes the keggers and other social events are exciting, but (que violin) you're at college to work. While campus libraries have space for studying, all those other students can be distracting. You'll find studying for exams and completing assignments much easier with a desk at your disposal. Make sure it's large enough for a computer, even if it's just a laptop, and for spreading out notes and textbooks. Add a lamp and an ergonomic chair that supports your body during marathon study sessions to create a productive work zone.
A Comfortable Bed
Never underestimate the importance of a comfortable bed. Most college students get between six and 6.9 hours of sleep, less than the eight hours most health experts recommend. Therefore, it's important to make sure every moment you're in bed counts. A comfortable bed will help you sleep soundly, so you can retain information, think more clearly, and perform better. Add a statement duvet to keep you warm on winter's nights and make your space feel more like home.
A Multicooker
It's so easy to slip into bad eating habits while you're in college. However, skipping meals and binging on takeout does your brain and your body no favors. You'll find eating in easier with a multicooker. You needn't spend a lot of money on this handy appliance that browns meat, slow-cooks casseroles and stews, makes hearty soups, cooks rice, and much more. Best of all, many multicooker functions are made for turning some of the cheapest ingredients into tasty dishes.

Some Wall Art
Wall art turns the apartment your college budget can afford into your own personalized space. It doesn't need to be expensive, but it should speak to you and your personal style. You can find cheap canvases at home improvement and budget department stores. Local markets are also great places to find unique art for less. Alternatively, why not print and frame some of your favorite photographs?
These items don't need to be the most modern or feature-packed. They don't even need to be brand new. Thrift stores, garage sales, and online marketplaces can help you secure them for a fraction of their original retail prices. However, just make sure you don't overlook them. All these items are essential for any college apartment.