It's your last year of college, and you have a full-blown case of senioritis. Your coursework is the last thing on your mind. All you can think about is what's next. But before you graduate, you need to finish your classes, get some work experience, and spend quality time with friends. Find out how to combat senioritis and pass your final year of college with flying colors.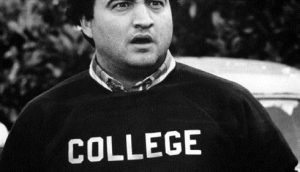 Organize Your Life
As a college senior, you've already been juggling a zillion activities and balancing a packed schedule for three years. You're probably ready for a break.
As tempting as it might be to let a few things go during your senior year, don't give in. Instead, come up with a game plan that will make you feel less stressed and more organized. Think about setting one big goal for each month. Plan to finish grad school applications or meet with your school's career services team — one step at a time.
Know What Motivates You
Tapping into your motivation during your senior year of college isn't always easy. What you have to realize, however, is that getting and staying motivated only gets harder as you add more to your plate.
That's why it's so important to find out what motivates you now so you can keep pushing yourself when you really need to. Maybe you love surprising yourself with how much you can accomplish. Perhaps you get a kick out of making your family proud. Either way, find out what works for you now and use it to motivate you this year and beyond.
Conquer Your Fears
Everyone has fears. Even if you're proud of what you've accomplished in college, doubts in the back of your mind could prevent you from doing your best this year or in the future.
To move past your fears, assess what they are and face them. Maybe you have imposter syndrome or are nervous about committing to your first year-long job. Talk with your adviser, your friends, and those you trust and get to the bottom of the problem so you can move forward.
Keep Building Your Network
Senioritis has a way of making you feel like you've already done enough. When it comes to growing your network, however, there's always more to do.
Throughout your senior year, make time to connect with professors over coffee. Get to know your adviser better. Join a new professional group at school and attend all the events. Being extra social might seem exhausting, but the connections you make will be worth it.
Make Time for Self-Care
Even when you're organized and motivated, surviving your senior year can be tough. Avoid being too hard on yourself, even if you don't get straight A's or you're still on the waitlist for your dream grad school program.
To skip feeling overstressed, make time for self-care. Do what makes you feel good. Let yourself take a nap in the middle of the day, hit the gym every afternoon with no exceptions, or treat yourself to your favorite meal once a week.
Staying sane during your final year of college is as easy as following these five easy steps. Keep senioritis at bay, and you'll finish your college career ready to conquer what's to come.