As soon as the semester wraps up, students prepare for the next stage. At this point, those old textbooks transform from an asset into a hindrance.
Unless you want to keep them around for future reference due to their high academic value, old textbooks do little more than clutter your home and accumulate dust on your bookshelf. But donating them is also something you may be reluctant to do—they cost lots, after all.
The solution? Selling your textbooks.
In one shot, you get to receive some extra income for future expenses, get rid of unnecessary clutter at your place, and extend the lifespan of your textbook. If you find the right place to do business, you might be surprised at how fast, easy, and profitable the process can be.
But the right site depends on what your needs are. Luckily, we have seven options for you to choose from and seek the best deal possible.
Online Marketplaces
The first option for many people seeking to sell their used textbooks is online marketplaces—e-commerce sites that offer a platform where sellers can list items for sale and allow potential buyers to browse among many options to find what they're seeking.
They are popular and easy to use since they connect sellers with buyers with minimal effort or limitations while providing a safe framework.
Selling books on Amazon has the fantastic advantage of helping you reach a broad audience, considering it is the world's largest online marketplace. Likewise, you are the one that sets the price you'd like for your textbooks, which could potentially become more profitable if you find a buyer.
By becoming an Amazon Seller, you get to choose the most convenient fulfillment method: handling shipping yourself with the Fulfillment by Merchant option or paying an extra fee to let Amazon manage it with the Fulfillment by Amazon alternative.
It's worth noting that Amazon Sellers have to pay a commission to the company—either a fee per each unit sold or a fixed monthly amount. These additional fees may bite a big chunk into your profits, so Amazon may only be an option for costly books or an ongoing, permanent side hustle. Likewise, the competition may be fierce, so you are not guaranteed a fast sale.
As one of the first significant online marketplaces, eBay is still a valid option to sell textbooks online for those willing to try.
Your first 50 listings on eBay are free, so if you are only interested in selling a handful of books, you won't have to pay any commissions or fees. Likewise, you can choose two main selling methods: set the price you deem fair or set up an auction where buyers compete with one another by bidding.
Like on Amazon, you are not guaranteed an instant sale and, instead, have to wait until someone decides to purchase your textbooks. Going for an auction is also risky, as you could end up underpaid for your efforts. Shipping is also your expense, as the company does not provide it.

Facebook Marketplace is one of the most accessible platforms to use, thanks to its intuitive interface and its association with Facebook. It is also quite popular, giving you access to a vast pool of potential buyers.
However, the site's primary asset is the option to sell locally. Rather than worrying about shipping fees, you can arrange the exchange with nearby buyers. If you live on campus, you have access to other students seeking the exact book you're selling.
But before jumping in, keep in mind that competition may be huge in student-heavy areas. Likewise, Facebook Marketplace does not protect you from being scammed or putting yourself in danger while concreting the sale.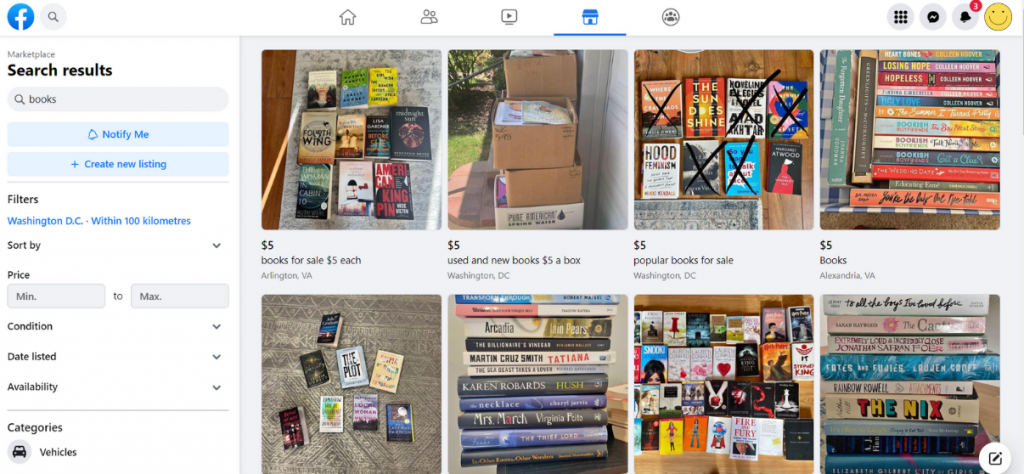 Book Buyback Companies
Buyback companies are a bit more specialized than online marketplaces. As their name implies, they focus on buying back used books, so textbooks are always in-demand throughout the year.
BooksRun specializes in anything associated with the world of literature, as they offer buying, selling, and renting options for books and eBooks. Thanks to its accessibility and large demand for used books, BooksRun remains a popular option with students seeking to sell their old textbooks.
By introducing your textbook's ISBN or title, you can find it in their database and gauge how much they would pay for it according to its condition. Once you decide to sell, the BooksRun covers the shipping fee by providing a printable shipping label and pays you once they receive the book through check or PayPal.
Convenient and fast, BooksRun makes the selling journey hassle-free. However, keep in mind that they have strict standards for the books they accept, so be sure to check their Buyback Condition Guide.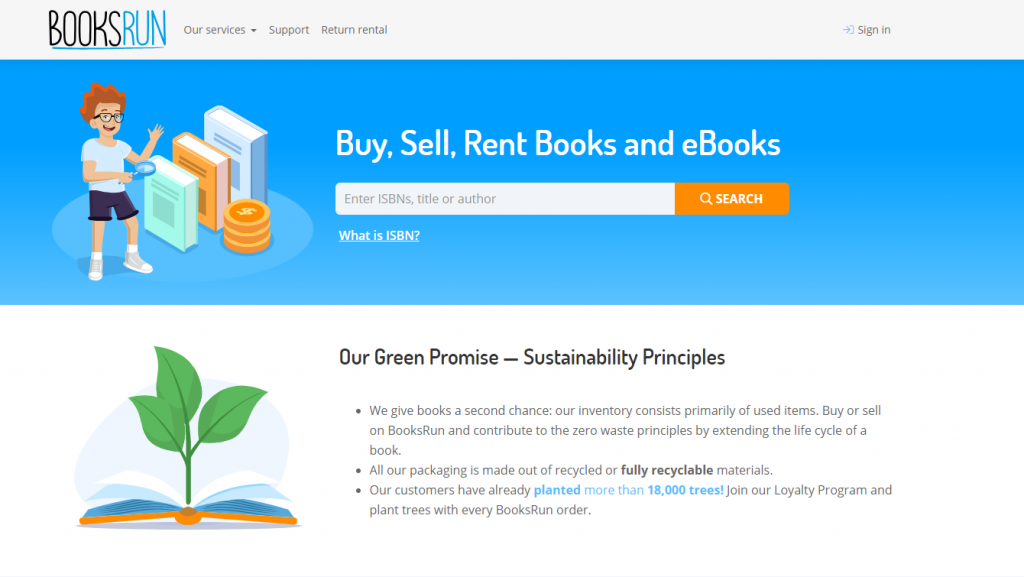 As a buyback company, AbeBook specializes in books and collectibles, with a particular emphasis on exclusive material.
Although it may seem as if your regular college book doesn't fit that niche, AbeBooks offers a specific buyback service for textbooks that redirects you to TextbookRush and Ziffit, the company partners. After choosing which of the two you'd like to work with, you can find the price set for your textbook according to ISBN and have it shipped for free.
Although AbeBooks is a reliable company with plenty of visibility, it still focuses on collectibles before textbooks, so you may not have much demand for your products. Likewise, it only works with two buyback partners, so your options are more limited.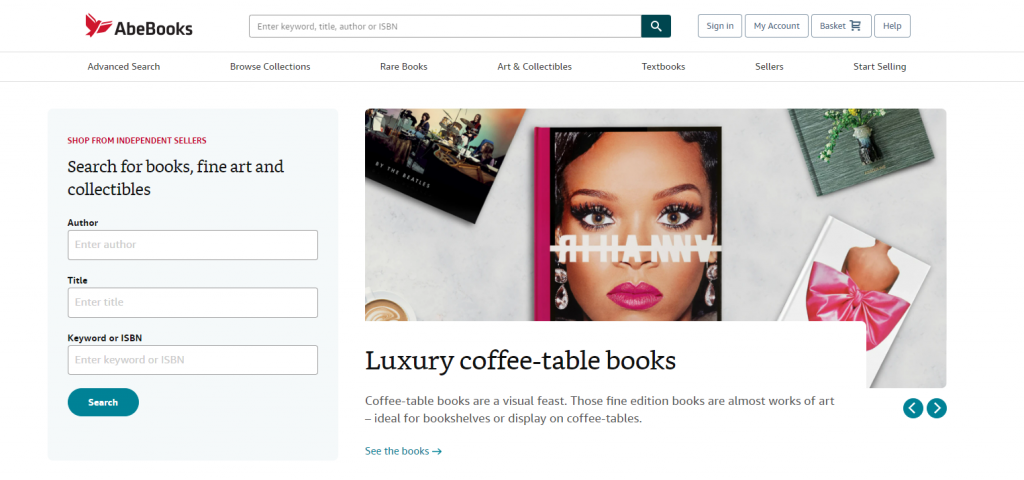 Book Price Comparison Sites
Although not an e-commerce option per se, book price comparison sites are an excellent first step in your book-selling journey. By providing the ISBN of your textbook, they automatically gather all the buyback companies that may be interested, offering you a way to compare prices before committing to any.
Rather than giving you the set price for your textbook, BookScouter acts as an information provider. As its name implies, the idea is to help you make an informed choice after carefully scouting the web for the best deal.
As a price comparison site, all you need to do is to write your textbook's ISBN or title, and the platform will display a list of buyback vendors interested in purchasing it from you. Each entry is organized by price, with the best deal highlighted for you to check and many reviews in place to ensure you make a safe and reliable choice.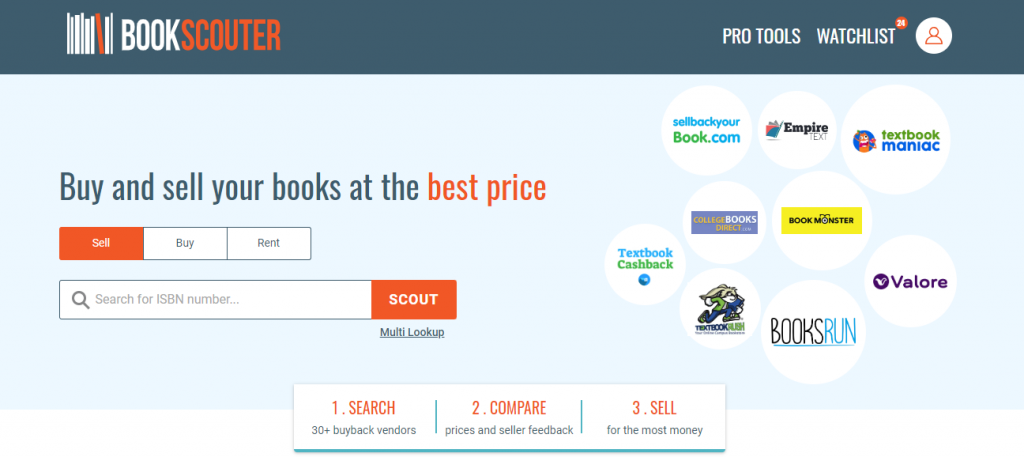 As a book comparison tool focused on textbooks, CampusBooks is one of the most prominent go-to resources for students selling, buying, or renting textbooks nationwide.
By writing down the book's ISBN, you get an instant list of partners interested in purchasing from you, alongside the price they offer. Since CampusBooks lists plenty of textbook-oriented buyback companies, you won't be out of alternatives and may have a bigger chance of receiving more money for your efforts.
With CampusBooks, you can explore the internet's most reputable textbook buyback companies without compromise, carefully ponder your choice, and make an informed decision for the most profit.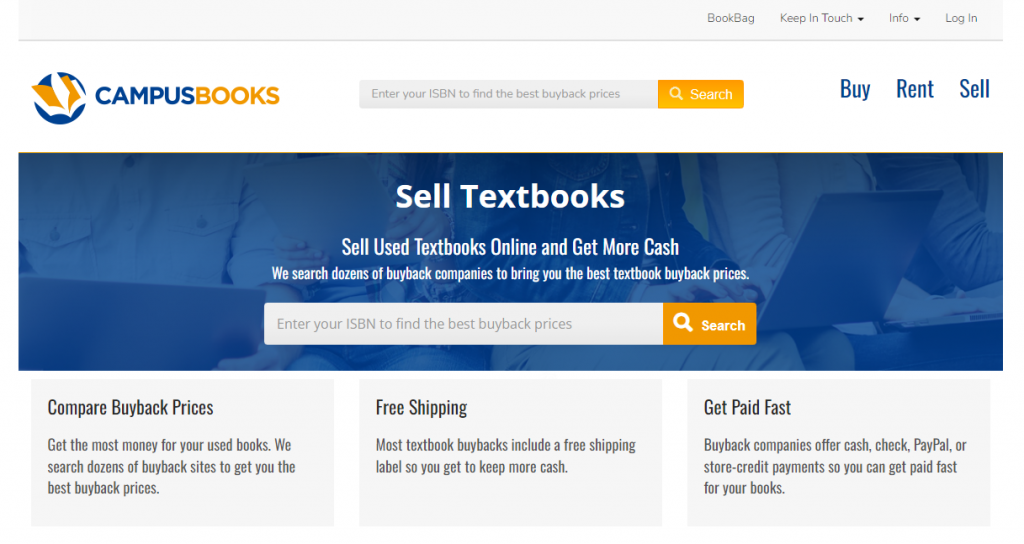 You Have The Tools
Selling your textbooks online has never been easier. While there are some hurdles and obstacles to overcome, you have the tools to make the process hassle-free.
While choosing where to sell your old textbooks is ultimately up to you, price comparison tools such as CampusBooks are an incredible first step that gives you the power to ensure you get the best deal possible.