The strangest year in higher education in 100 years is coming to an end, classes are ending, and it's time to sell your used textbooks again. While things might have looked a lot different on your campus this year (if you were even on campus!), the basics of buying and selling textbooks (also known as "textbook buyback" since the campus bookstores buy back your used book) haven't changed much.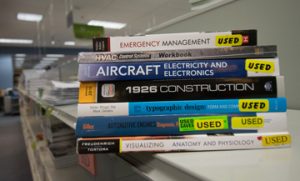 Some things never change
Although the pandemic disrupted virtually every aspect of everyone's life over the last year, the basic laws of economics and supply and demand remain the same. The most important rule of thumb when selling your used textbooks is that you want to sell when everyone is buying (and buy when everyone is selling!). For us that means if you sell your textbook in May when everyone else is doing the same, and not many people are buying, then you will get less money for your books. If you can wait a couple months until July or August to sell when everyone is buying, then you will get substantially more for your books. Obviously this doesn't work if you lose or damage your books, so if you don't trust yourself to keep those expensive textbooks safe and sound then it's probably better to sell in May and go away.
Buyback Basics
The ground rules for selling books that we posted in 2017 remain the same.

Avoid the Campus Bookstore: they have a local monopoly, and will always offer you the least money for your books.
Shop Around: Use the Campusbooks.com sell tool to compare prices and get the most money for your used books.

Be Honest: Don't try to oversell the condition of your used textbook. It will just create more headaches for you. If Fido ate chapter 7, then let them know. Better to get something than nothing.
Cash or Credit? Make sure you know if the merchant you sell to is offering you cash or store credit. Merchants usually will offer more in credit than they will in cash.
CampusBooks.com Tools
In Textbook Buyback Part 2, we explored the CampusBooks.com tools that help you save money on textbooks. The CampusBooks Buy Vs Rent Superbot has only gotten smarter over the years and gives you one of the most powerful tools around to compare your total cost of ownership, and whether it makes sense to buy vs rent your textbooks. You can use the tool to see what the expected selling price of your book would be in the future based on historical trends. Used in conjunction with the CampusBooks.com buyback price comparison, and you have the best tools at your disposal to make sure you get the most money for your used textbooks.