The 2019 results are in! College students spent 23% less on textbooks than in the previous year. Once the holiday festivities have ended and the glitter has been swept off the floor, you can start the new semester with even more savings. Make sure to stay on trend, and ring in the new year with these textbook buying tips: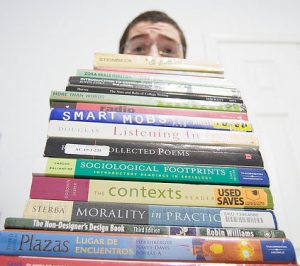 Talk to Professors
College professors have access to resources typical students don't. Talk to them. See which books on the syllabus have older editions that will suffice for their class. If cost is an issue, ask if they know of other textbook options. Sometimes professors receive copies for free from textbook companies, and they may have one to spare. Be ahead of the curve. When you know your instructors for the next semester, e-mail them ahead of time and get the jump on textbook buying and borrowing before the back-to-school rush.
Rent (but Return!)
Don't want to buy that French book for a mandatory foreign language course that you'll never use again? Rent books instead. Renting textbooks can be more affordable than purchasing them. Be sure to read the fine print and be mindful of late fees, however. Missing the due date for textbook returns, even by a few days, can cause them to accumulate serious fines.
Go Online
Renting or purchasing electronic versions of textbooks is often a cheaper alternative for students. Unfortunately, online resources come with their own level of risk. Be mindful of viruses and other forms of malware when digitally downloading textbook files. To avoid problems, make sure to install antivirus software and keep your other software up to date on your computer and other electronic devices.
Visit the Library
The campus library should be the first stop on your textbook buying journey. Check out the library's online databases for hard copies or digital versions of your textbooks. Often, professors will at least put copies on reserve for in-library use. You can also see if editions of your textbook are available via interlibrary loan.
Buy Used
Students buy used books and definitely save serious cash. Hit the online hubs and campus bookstores early to find the best deals.
Subscribe
In the past couple of years, some textbook publishing companies have started offering subscription services. College students can pay one affordable semester fee that allows unlimited access to digital course materials, including many textbooks.
Sell Back Last Semester's Books
Are there any books from last semester lying around your dorm room? You can squeeze a few dollars out of each book you don't intend to keep. If campus bookstores don't want your textbooks back, go online. In addition, note if campus bookstores and websites offer guaranteed buy-back options that ensure a specific upfront price for returned products.