Spotting a Counterfeit Textbook
Counterfeit textbooks are a growing problem in higher education. The expanding online marketplace parallels an increase in third-party booksellers, increasing the risk of pirated materials. College students and other book buyers must learn to navigate the ever-complicated landscape and avoid purchasing counterfeit copies.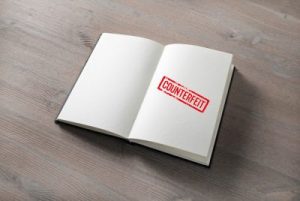 What's the problem?
Major textbook companies suffer a significant economic impact from counterfeit copies accounting for tens of millions in lost revenue in an already struggling industry. But why should students avoid these fake but cheaper products?, For one thing, buyback companies will quickly spot a counterfeit, so you will not be able to sell used textbooks. Attempting to sell counterfeit textbooks, even by accident, can lead to costly lawsuits for bookstores and compromise individual membership on certain websites, like Amazon. Furthermore, pirated versions lack the quality control required by publishers, leading to typos, low-quality images, and even missing pages which could be a huge hassle for you as you cram for that midterm.
What to look for
So, what should you look for? While a low sticker price may be tempting for strapped college students, if the copy costs far less than identical versions, it is likely a fake; shop around to determine what the average price range is before choosing the cheapest option. Counterfeit books tend to possess a number of aesthetic problems such as thin or discolored paper and substandard cover art. Keep an eye out for fuzzy barcodes as well. You can also look for the seal, a new anti-counterfeit book standard that allows you to scan a book with your phone to see if it's legit. Finally, research where the book ships from; fake copies typically move through third-party sellers in China and India.
Conclusion
For many college students, semester textbook requirements pose a financial burden; counterfeiters take advantage of this, and the problem is growing. Students have more and more options to save on textbook purchases, but it requires time and a buyer's savvy to navigate the market. Make sure to take a little extra time and research the books you're buying. Is the barcode visible? Is the binding secure? Does the print quality look cheap? Do some research, check a book counterfeit risk calculator on booksrun.com, shop around, and don't let price be the main factor for your purchase.