As we head back to school after our spring break in quarantine, or Coronavacation, we have to adjust to the new normal, which for the time being appears to be online learning. It's important to stay focused and not lose sight of your degree in these unfamiliar times. Here are a couple of tips to help make online learning work for you: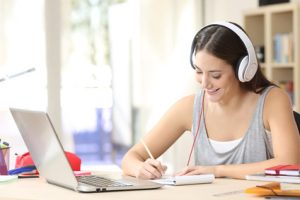 1) LOCATION, LOCATION, LOCATION
Set up a space to work. Preferably one that is quiet and where you are sitting upright. Trying to take online classes on your bed could result in an unexpected nap. Make sure your space has all of your materials ready to go. On average it takes 23 minutes to refocus once your work is interrupted. That means set that phone and social media aside during work time!
2) CREATE A ROUTINE, TO-DO LIST
Some classes will be in real time, but others will let you set your own pace and it's easy to get off track. Create a weekly to-do list, giving yourself tasks everyday. Make sure you have due dates on a calendar or set up on an alert system on your phone.
3) CREATE AN ONLINE STUDY GROUP
One big drawback of this new way of life is the lack of human contact! Exchanging ideas, notes, and even a laugh or two can liven up learning. Create a Zoom study group and watch your mood lift. Smiling can actually trick your brain into happiness and even boost your immune system. Hey even a fake smile can reduce stress and lower your heart rate so if you can't meet with classmates give yourself a few smiles in the mirror each day.

4) SCHEDULE SELF CARE TIME
Self care may be one of the most missed aspects of college life. You need to take care of yourself or nothing else will go smoothly. It's ok to stop and rest. Browsing social media may sound like a great free time activity, but it can often lead to more stress, comparisons, or negative feelings. Self care time should be free of that. Positive examples may be: a hot bubble bath, binge watching your favorite show, cooking yourself a healthy dinner, calling your best friend, reading a non-school book, even taking a shower and putting on clean clothes.
5) ASK FOR HELP WHEN YOU NEED IT
Lastly, ask for help when you need it. Whether that's asking your teacher about computer problems (remember teachers are learning this new system too) or asking for help because this new life situation has caused you stress or anxiety. There is nothing to be ashamed of there, we are all feeling out of place… even though we are right at home.