Is it better to buy or rent textbooks? If we had a nickel for every time we get asked that question . . . well, we'd have a lot more money than the college bookstore is offering to buy back that $200 math textbook you bought last semester.
In truth, the answer to "Should I buy or rent textbooks?" is complicated because there's no single right answer that applies to all textbooks for all students (or even most books for most students). But that doesn't mean that the question doesn't have an answer, it just means that arriving at that answer happens on a textbook-by-textbook basis and it relies on a lot of data and knowledge.
After nearly twenty years saving college students money on textbooks and going through all of the changes and innovations with rental textbooks and eBooks and access codes and custom editions, CampusBooks.com has the answers and now we can tell you if it's better to buy or rent textbooks. And we're not talking generally, we're talking specifically about you (you, the individual student) and whether or not it makes more sense to buy or rent the exact textbooks that you need.
Behold the Buy Vs. Rent SuperBot and never wonder if you're paying too much for textbooks!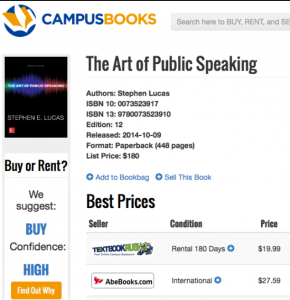 It's so easy and so helpful and it takes the guesswork out of getting textbooks without getting ripped off. Just do what you already do: go to www.CampusBooks.com and enter the ISBN for the textbook you need.
When you get your price-comparison results and you see all of your options, look for the Buy Vs. Rent tool in the left column just under the book's cover image. There you'll see our recommendation for your best option. We literally do all sorts of complicated math behind the scenes in order to tell you (based on tons of data) whether it's better to buy or rent a textbook.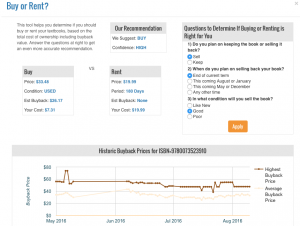 And if you want more info or to customize the recommendation based on things like how well you take care of your books, hit the Find Out Why button. You can personalize your recommendation and even see trends about the textbook and its historic and estimated buyback values. And then you can make the best decision as to whether it's better to buy textbooks or to rent them.
Enjoy the savings and the peace of mind.