By now, you already know that paying list price for books or buying them on campus is crazy and that you can save up to 90% on textbooks using CampusBooks.com. But here's a little hint to help you save more: When you search for your books and run your textbook price comparison, look for the little blue cash icon in the Coupons column.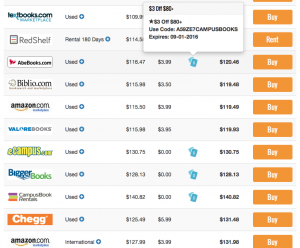 See it? Sweet. Now mouse over that icon (or see the details below the listing if you're using our app) and you'll see exactly how much more you can save with textbook coupons.
All year we've got money-saving extras like free shipping and bonus buyback cash so that you get the most for your textbook bucks. But just in time for back-to-school 2016, we've loaded up CampusBooks.com with more (and better) textbook coupons than we've ever had before.
These coupons cover buying textbooks and renting textbooks and many of our coupons are CampusBooks exclusives, which means that you can't find these add-on savings anywhere else. Seriously, an extra 10 seconds of your time could save you an extra 10% (or more) on your textbooks this fall. Save on, smart shoppers, save on.