Senior year is here. Before you know it, you'll be slipping on your cap and gown, accepting your diploma, and celebrating four amazing years with your BFFs. Not sure if you're ready for life after college? You still have lots of time to make this the best year yet. Set yourself up for success by doing these four essential things during your senior year of college.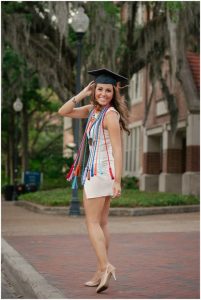 Take a Class That Expands Your Horizons
During the first few years of college, your class schedule is usually packed with courses you need for your major. But when you're a senior, you probably have at least a couple of spare time slots. Why fill them with snooze-worthy classes?
Instead, enroll in a course that takes you out of your comfort zone. Learn the basics of coding, or try performing arts on for size. You might not land on a new career path, but you'll definitely learn something new and have a more well-rounded perspective.

Make Friends and Form Connections
As a senior, you already have a solid squad. You grab dinner with your BFFs after class, go out with them every weekend, and offer laughs and support around the clock. But having an amazing crew doesn't mean you should stop putting yourself out there.
During your senior year, get strategic. Make friends with that super-ambitious girl at the top of your class or that guy who landed an internship at your dream company. Form deeper connections with professors. Start building out your network now, and you'll have great connections to draw on later.

Rack Up Some Work Experience
In your last year of college, getting decent grades and squeezing in time with your crew might seem like all you can handle. Adding a job to the mix can sound like way too much. Without work experience, though, you might not truly know what you want to do after you graduate. Think of your college job as a key step in creating a life plan that makes you happy and your parents proud. Not sure where to start? Talk with friends, professors, or even your college's career services office to learn about internships or entry-level gigs that offer essential work experience.

Rethink Your Online Life
When you're living your best life in college, it's easy to focus on having fun. Over the course of three years, your social media profiles might look like one long party. While there's nothing wrong with having a great time, remember that the content you post online could influence your future employers' hiring decisions. After all, they want to make sure you're a capable person who's an asset to their team.
Even if you hate the idea of censoring yourself, do a basic audit of your online life. Put your best foot forward with photos and content that make you look like a rock star to the general public. Save the rest for family, friends, and everyone else that makes the cut behind your privacy settings.
Your senior year is arguably the most important in your college career. Do it justice by adding these four essential tasks to your to-do list.